Laser Rejuvenation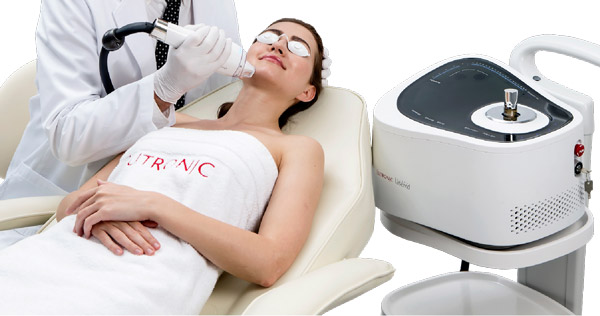 Laser Skin Rejuvenation treatment utilizes advanced science to promote smooth, evenly toned skin in both women and men. This no downtime laser rejuvenates and treats multiple skin conditions such as sun damage, aging, rosacea, acne, enlarged pores, and more.


What is LaseMD GLO?

LaseMD by Lutronic, approved by the FDA, is a new fractional non-ablative resurfacing treatment with little to no downtime – gamechanger. This revolutionary technology treats sun damage and pigment, smooths and plumps the skin stimulating collagen, as well as improves fine lines.


What is the difference between ablative lasers and non-ablative lasers?

Ablative and non-ablative lasers both use energy to penetrate through various layers of skin to repair the appearance of wrinkles, pigmentation, scarring, and other signs of aging. The main difference is non-ablative lasers do not break the surface of the skin, allowing for minimal or no downtime. Whereas, ablative lasers do break the surface of the skin, creating longer healing time and possible peeling.


What Areas Can Be Treated with LaseMD GLO?

Think about all the areas where you have sun damage – face, neck, chest, arms, hands, and the list continues.


Who is a Candidate for LaseMD GLO?

LaseMD GLO is appropriate for patients looking for a brighter skin tone and improved texture. This may include patients with melasma, sun damage, mild scars, fine lines, and more.


What is a LaseMD GLO treatment like?

Treatment will begin with your provider discussing your treatment goals and applying a topical numbing cream to your skin. Next, your skin will be cleansed, and treatment will begin. You will likely feel some heat and tingling as the laser is passed over the skin. The treatment can be customized to the individual, ranging from no downtime to a few days of mild redness and sloughing. You're back in makeup the next day. You know you had treatment done, but no one else does.


How Many LaseMD GLO treatments will I need?

For best results, a customized treatment plan will be created. A typical treatment will start with a series of 3 treatments, performed about 4 weeks apart.


Can LaseMD GLO be combined with other treatments?

Yes, in fact, it is a great compliment to other treatments, such as Genius micro-needling, and can be done in the same treatment session to enhance results without adding any additional healing time.

If you're interested in having smoother, more beautiful skin, call Dental Care of Burlington at 781-221-7171 today to schedule an appointment.

Additional Information:
Botox for TMJ
Micro-Needling


Before and After