Dental Services

Burlington, MA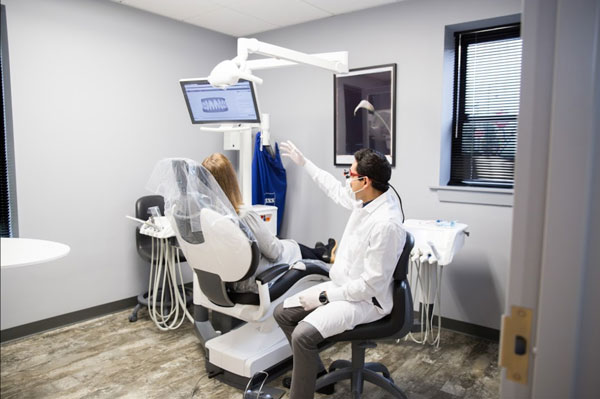 Your One Stop Shop for Dental Procedures

We understand that you have a choice in who provides your dental care. At Dental Care of Burlington, we are committed to offering the best dental (and even some orthodontic) care available for the whole family in a compassionate, relaxed atmosphere, all under one roof, utilizing the most advanced technology available.

Our services are not simply limited to comprehensive general dentistry treatment for adults and children. Dental Care of Burlington also offers early childhood interceptive treatment, preventative dentistry, cosmetic dentistry, endodontics, periodontics, oral surgery and orthodontic options such as Invisalign clear aligners.

To ensure that all our patients feel welcome, we have created a fun office atmosphere! Our staff members like getting to know each patient, and they will listen closely to your questions and concerns. Our staff is genuinely interested in delivering compassionate, personalized care. Likewise, they know that your time is valuable, so they keep our office running on schedule.

At our office, you're more than a number – you're part of our family! We create personalized, individual treatment plans for each patient so that we deliver only the best results!


Family Dentistry

A large part of our practice involves family dentistry. We take great pride in treating every member of the family, from infants to grandparents! These treatments are often simple and straightforward, designed to prevent potential problems. A routine appointment typically consists of professional cleaning and check-up exam. We may also recommend an oral cancer screening for adults, and fluoride treatment for children. If we notice any instances of tooth decay or gum disease, you may need restorative treatment.
Discover the services we offer you and your family to help prevent dental problems.


Restorative Dentistry

Restorative dentistry is designed to fix any problems you may have with your teeth, gum tissues, jaw, and bone structure. We may recommend a dental filling to correct instances of minor or moderate decay. If the damage is substantial, you may need a dental crown. A dental crown is a tooth-shaped cap that improves the function and aesthetics of the tooth. If the tooth is beyond saving, Dr. Kamand Shaibani will perform a tooth extraction. Tooth loss is much more common then you may think. For this reason, we offer several replacement solutions, some of which include bridges, dental implants, and dentures.
Learn more about the services we offer to help restore your beautiful smile.


Cosmetic Dentistry

Cosmetic dentistry has grown significantly over the past few decades thanks to advancements in technology and technique. Cutting-edge equipment allows us to improve the size, shape, color, and overall appearance of an unsightly tooth. The cosmetic services we provide include teeth whitening, porcelain crowns, dental sealants, and dental veneers & bonding. Teeth whitening treatment is one of the most common procedures we perform due to its effectiveness. We may recommend a porcelain crown for both restorative and cosmetic purposes. The same is true for dental veneers. Both restorations are fabricated using porcelain because of its unmatched aesthetic value.
Read more about the cosmetic services we offer to brighten your smile.


Oral Surgery

The word "surgery" often brings to mind a stay in the hospital, general anesthesia, and perhaps a lengthy recovery period. However, the experience of having oral surgery is usually very different from that. Oral surgery is often performed in a dental office setting, under local anesthesia, with minimal recovery time. Oral Surgery can range from routine procedures such as tooth extractions and implant placement to more complex jaw realignment surgeries and emergency care for facial trauma.
Review the oral surgery procedures we offer.


Sedation Dentistry

Unfortunately, we understand that some people experience fear or anxiety when they think about a trip to the dentist. In some cases, these phobias can even prevent a person from receiving the dental care they need to maintain proper oral health. At Dental Care of Burlington, we offer sedation dentistry to create a more comfortable and enjoyable experience for our patients.
Learn more about your dental sedation options.


Emergency Dentistry

Knowing what to do during a dental emergency can make the difference between saving and losing a tooth. If you have knocked out a tooth, be sure to schedule an appointment as soon as possible. If your tooth is re-implanted within the hour, the chances are strong that it will reattach to the socket. Dr. Kamand Shaibani always leaves time open for emergency appointments. A chipped tooth, however, may not necessarily constitute a dental emergency. Severe pain is a clear indicator that you need immediate treatment. A crack or fracture may also indicate a serious problem.
Discover what constitutes a dental emergency.


Facial Aesthetics

Today's cosmetic dental treatments can take years off just about anyone's appearance. But don't forget that your facial features - lips in particular - provide the framework for that beautiful smile. So if you're having a smile makeover, it makes sense to rejuvenate your lips and other facial features at the same time. At Dental Care of Burlington, we truly care about your smile. That's why, in addition to our extensive dental procedures, we also offer procedures targeted at improving your overall facial aesthetics!
Learn more about the facial aesthetic procedures we offer.


Schedule Your Appointment

To learn more about the services we provide call 781-221-7171 and schedule your appointment now!