Placing Dental Crowns

Burlington, MA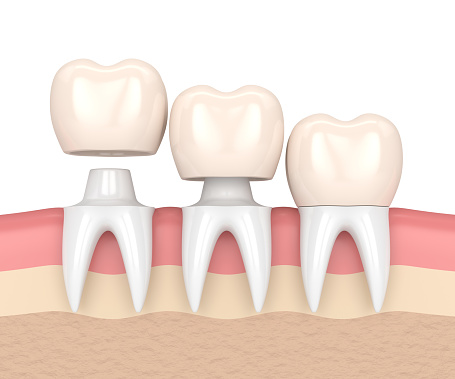 Dental crowns are shell-like caps for damaged teeth. Dentists recommend getting dental crowns to avoid problems while eating or drinking. Dental crowns are of various materials. You can choose one depending on your preferences. Dr. Kamand Shaibani and Dr. Thomas Rafferty recommend seeking a professional's assistance before deciding on the type of crown you get.


The Dental Crown Procedure

The procedure of dental crowns depends on the type of crown your dentist recommends. Typically, same-day crowns involve identifying and opening the cavity in a tooth. The dentist trims the tooth to make a suitable base for the temporary crown. Once done, the dentist places a temporary crown that will be replaced with a permanent one when ready.

Depending on its type, a permanent crown may take up to a few weeks to prepare. Dentists take the tooth size, notice the shape, and send it to the lab. The lab experts prepare the dental crown according to the requirements.


Types of Dental Crowns

You can find various types of dental crowns. The types vary depending on the material you choose. Generally, dental crowns are made of metal, ceramic, porcelain, composite resin, zirconia, and custom materials. When choosing a dental crown, your dentist may review a few factors. These factors include your tooth's location, appearance, the position of gum tissue, tooth function, and tooth color. These factors help in creating the best-fitting dental crown.


Who Needs Dental Crowns?

Dental crowns are covers for damaged teeth. If you have a tooth with a cavity, your dentist may recommend getting a crown to avoid damaging it further. Typically, dental crowns serve those who have severely worn down teeth. Teeth can receive damages due to various reasons. Poor flossing practices, gum infections, bacterial presence, and accidents are some of the many reasons. If you have a crack on your tooth or the tooth becomes weak, you may face problems drinking and eating. You may also need a dental crown if you have a missing tooth and your dentist recommends getting a dental bridge.


Benefits of Ceramic Crowns

Ceramic crowns are a popular choice among various types of dental crowns. Their durability, superior appearance, accurate fitting, and allergy-free properties make them ideal for most patients. Ceramic crowns may be costlier than some other dental crown materials. However, you may be okay with spending a bit extra to get the above-stated benefits of ceramic crowns.

Moreover, ceramic crowns can bear excessive chewing pressures. While some crown materials require cautious eating, ceramic crowns offer more durability when eating crunchy foods or hard-to-bite fruits. Opting for a ceramic crown can save you from any insecurities if you are feeling sensitive about how your dental crown appears when you smile. You can smile, eat, and do everything you missed while you did not have a ceramic crown.

Dental crowns can save you from embarrassing situations publicly. Dr. Kamand Shaibani and Dr. Thomas Rafferty at Dental Care of Burlington recommend thoroughly understanding the pros and cons of various crown materials before choosing one.