BIOLASE® Waterlase Dentistry™ Laser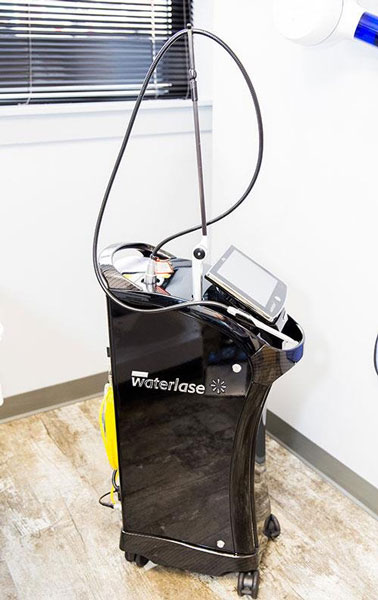 In order to bring you a more pleasant dental experience, we use BIOLASE® Waterlase Dentistry™ for both hard and soft tissue procedures. Through a combination of water and laser energy (HydroPhotonics™), Waterlase has revolutionized laser dentistry with more accuracy and precision and with your comfort in mind.

With Waterlase Dentistry, we can remove decay, perform a root canal, treat canker sores, herpetic and aphthous ulcers or even create the smile you've always wanted. Tooth, bone and gum procedures have never been easier. Procedures that once took several appointments can now be finished in as little as one visit! Waterlase Dentistry can cut into the tissue without the discomfort that heat, pressure and vibration normally causes. Thus, the patient needs less anesthesia or fewer shots. It's so gentle that the procedures can be completed with little or no bleeding and less swelling.

When performed by a trained dentist, Waterlase Dentistry is extremely safe. Ask us how comfortable your next procedure can be with the new Waterlase Dentistry system.

Call us at 781-221-7171 today to learn more about the technology we use or schedule an appointment.